Prolight+Sound exhibition Frankfurt.
At the recent Prolight&Sound exhibition in Frankfurt, SIXTY82, Doughty Engineering and PROTOS shared a booth, which drew a lot of attention from visitors from all over the world.
SIXTY82 showcased their latest products such as the Arena Frame for indoor or flat floor venues, offering tool free set up and record breaking fast build up time (200m2 in less than 4 hours!) with a minimal amount of staff needed. Also on display was the patented Alpha Modular Truss System which offers endless possibilities for any job, with a very small amount of parts. A unique feature is that the Alpha truss can be used in combination with other SIXTY82 truss ranges such as the L52S and XL101. Also present at the show was the recently launched eye catching TPM Truss range, the unique and game changing truss range completely welded by robots, interchangeable with the M29S series but 25% stronger and with extruded end frame greatly reduces the chance for deformation when abused and skips the need for diagonal end braces, offering more internal storage space. Also introduced was the new Inferno Heat Resistant Soft Sling which is made from aramid fibre and is therefore heat resistant up to 200 degrees Celsius, while remaining extremely flexible!
Doughty introduced new products such as the Truss Speaker Bracket, 3 Position Tank Trap, and the Heavy-duty and Scaff Boom Arms. These new products are designed to provide rigging professionals with the flexibility and ease of use they need to get the job done. Also introduced at the show is the new Doughty YouTube channel, where a variety of video's are available explaining how to use the products, offering useful tips which you might not have been aware of before. A lot of visitors had their picture taken in the larger than life trigger clamp.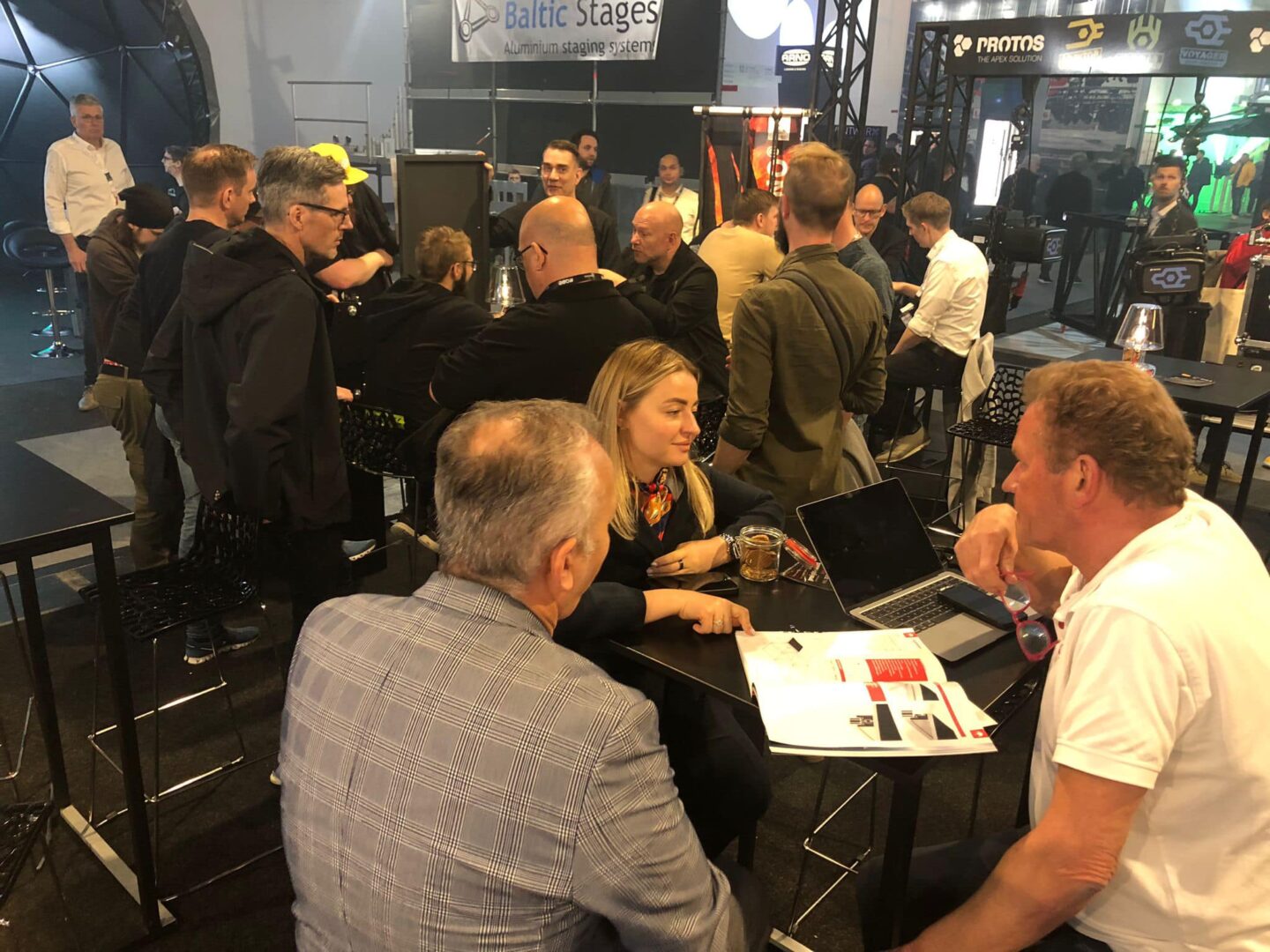 PROTOS showcased many items from their 3 sub-brands; ADJUTOR Rigging Gear, AEGIS Load Measuring systems and the full range of VOYAGER Chain Hoists. The range hoist range offers unique advantages for the entertainment industry, such as the lightest hoist available (1000Kg = 23Kg!), IP65 rated for outdoor use without making use of rain covers, and all models, including the impressive 2500Kg XXL model, use a single fall lifting chain! PROTOS displayed the latest AEGIS load measuring stainless steel load cell shackle with reduced headroom on bobbin and load pin for more accurate load reading.
Movecat featured their impressive I-motion line and presented a game which showed the Expert T-III control desk operating 4 VMC-S series hoist lifting a board with obstacles and holes in which a steel ball had to be steered by using the joy stick control and showing that controlling objects can be made very easy!
Admiral Demonstrated why their products are called "staging essentials" The new "Shark" Kedar clamp which can be used to create hanging points from e.g. Marquee profile. A variety of carts, side light towers, flexible ramp solutions, the cable systems and many other essentials were presented, which often caused reactions like; "How did I do it without this"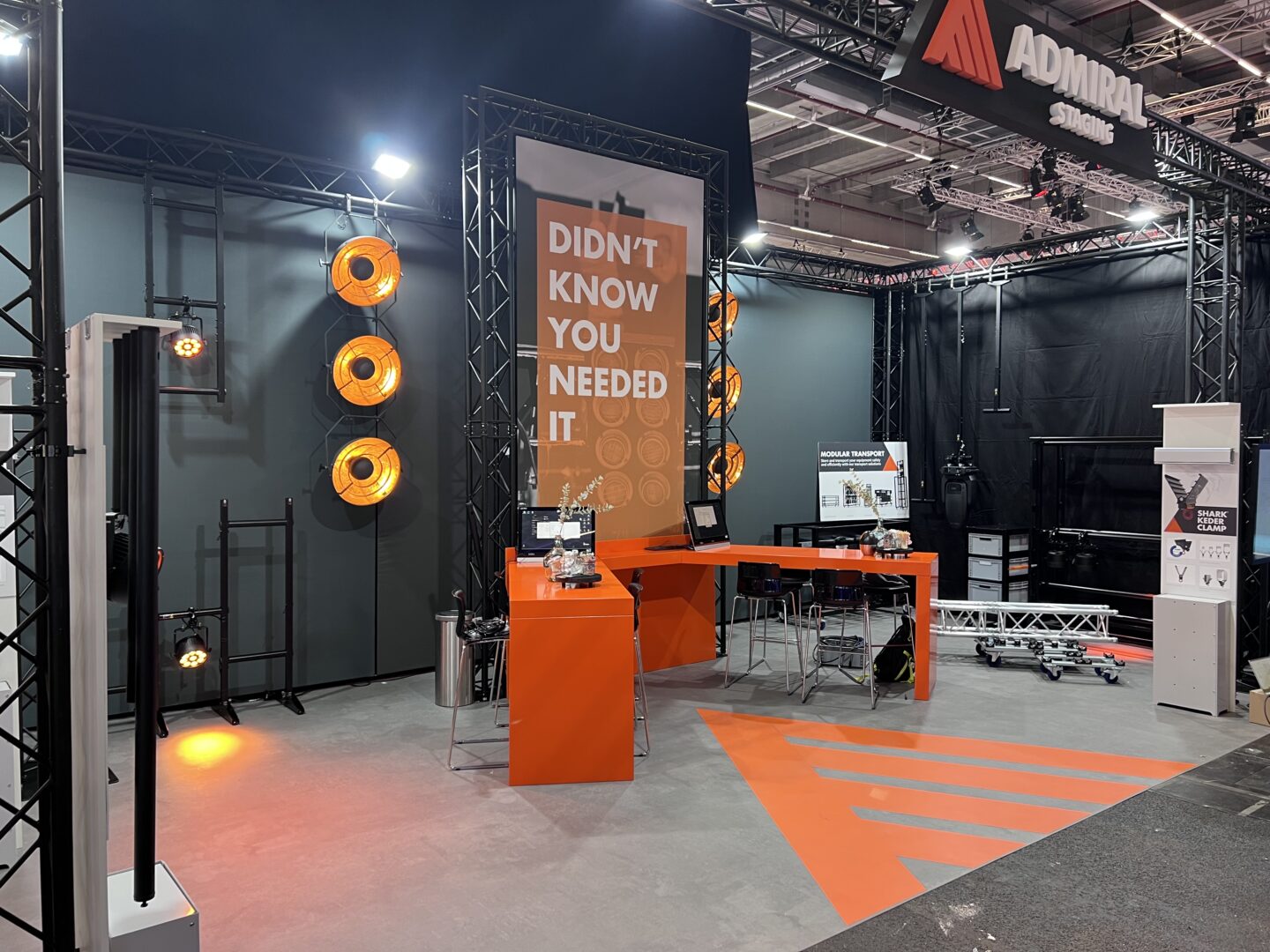 Roturua Installation
The Roturua Lakes council engaged theatrical specialized project management company Shand Shelton for the refurbishment of the Sir Howard Morrison Performing Arts Centre (SHMPAC) in Roturua.
The brief was to create a flexible truss suspension grid which could be adjusted in order to accommodate lighting, sound AV and props to be suspended and rigged wherever needed in the concert chamber or other rooms and at the same time staying within the budget.
Phil Conroy, one of the managing directors of Shand Shelton explains; The SIXTY82, M29S truss and M29 lifting brackets in combination with the unique "hang on" for both square and ladder trusses are offering exactly what we were looking for to achieve our goal. For any set up the cross truss beams can be repositioned at any desired position in a fast and more important safe way without having the need to take the entire grid apart or adding more truss spans which would the self weight suspended from the building roof structure and increasing the investment.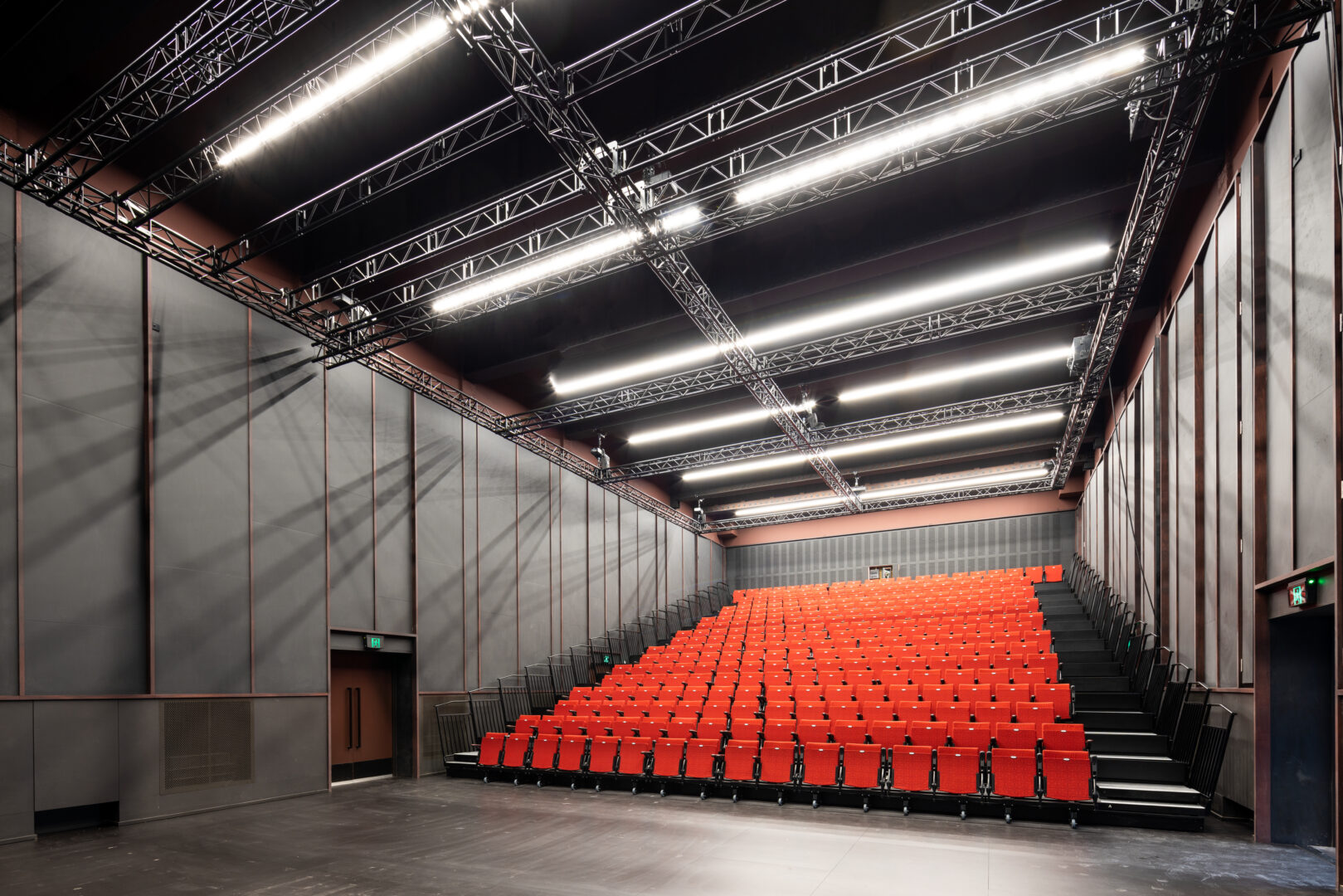 Want to work for SDA?
Administrative Manager
SIXTY82 Doughty Asia is currently in search of qualified, experienced candidates with drive and commitment, to bolster our dedicated team.
Requirements
Diploma in Business Administration, communications or a related field
Proven office management responsibilities, systems and procedures
Highly dependable and trustworthy
Excellent time management skills and ability to multitask and prioritize work.
Attention to detail and problem solving skill
Fluency in English
Excellent written and verbal communication skills
Strong organizational and planning skill.
Effective communication skills with a talent for operating across different levels of an organization.
Proficient in Microsoft office
Knowledge of accounting, data and administrative management practices and procedures
Knowledge of clerical practices and procedures
Knowledge of human resources management practices and procedures
Knowledge of business and management principles
Computer skills and knowledge of office software packages.
Must be a self-starter and driven
Knowledge of spoken and written mandarin an added advantage
International Sales Manager
SIXTY82 Doughty Asia is currently in search of qualified, experienced candidates with drive and commitment, to
bolster our dedicated team.
Ambitious candidates with a strong drive for personal growth can flourish in this position as this job offers many opportunities in the form of education & training, commission and travel. The better one performs as an International Sales Manager, the more they stand to gain.
Requirements
– A minimum of 2 years of sales experience in a similar capacity
– Must have verifiable knowledge of the entertainment industry
– Fluency in English
– Excellent communication skills
– Possesion of a car
– Willing to travel throughout Asia
– Age of 25 years and over
– Candidates with knowledge of Mandarin are given priority
Interested candidates are invited to email their comprehensive resume with a recent passport sized photograph to The Manager at info@sixty82-doughty.com.
It is also encouraged to write and send a motivation letter detailing why you would like to get this job and why you think you would be a suitable candidate.